Join the Maine Outdoor Film Festival at Baxter Brewing Co. for the festival's first-ever Lewiston-Auburn screening. Yes, there will be beer.

Date: Saturday, September 23, 2017
Time: 7:00PM
Cost: $10 includes a draft beer and all proceeds going to Teens To Trails
Location: Baxter Brewing Co. – 130 Mill St, Lewiston (for google maps use this link)
Presented in partnership with: Baxter Brewing Co.
Facebook event link: [here]
Films to be screened: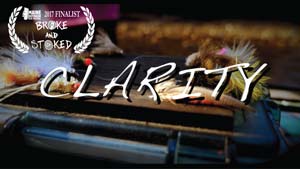 CLARITY
Directed by: Alex Poland – Oxford – 4 minutes
Synopsis: A film showcasing how the Poland family enjoys Fly fishing in Maine.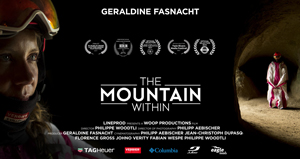 THE MOUNTAIN WITHIN
Directed by: Philippe Woodtli – Switzerland – 4 minutes
Synopsis: This the new dream of Géraldine Fasnacht: Being the first person to fly with her wingsuit from the highest peak of the Mont Rose massif, natural boundary between Switzerland and Italy. The Mountain Within is a journey which takes the spectator on the tracks of Géraldine and her newest adventure.
Also screening 9/8/17 – John Bapst High School Auditorium – Bangor, ME & 9/14/17 – The Gem Theatre – Bethel, ME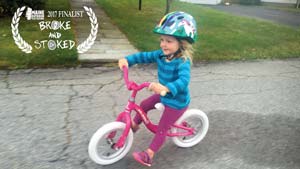 KEEP PEDALING
Directed by: Rob and Neyva Mueller – Brunswick – 2 minutes
Synopsis: Neyva loves her bike. At two she learned to balance on a strider and now at three she moved right into ripping on a bicycle. This little girl rocks!
SUMMER SESSIONS
Directed by: Sam Whitney – Cape Elizabeth – 4 minutes
Synopsis: Taking full advantage of Summer 2k17 with my friends in Southern and Western, Maine.
България: изток на запад (BULGARIA: EAST TO WEST)
Directed by: Brian J. Leitten – USA – 5 minutes  Synopsis: Last summer Hyperion XIII traveled to Bulgaria as an official selection at the DroneUp International Film Festival. Fascinated by the unique architecture, we decided to travel the country to experience it from a new vantage point. From ancient Greek ruins to a 1,000 year-old monastery to graffiti-stained Communist-era monuments, this film explores the influence of culture on architecture.
Also screening 9/16/17 – L.L. Bean/Discovery Park – Freeport, ME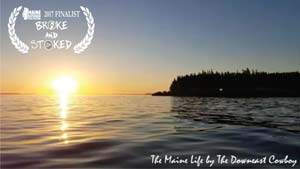 "THE MAINE LIFE" BY THE DOWNEAST COWBOY
Directed by: Kelly James Hinkle – Columbia Falls – 3 minutes
Synopsis: The Maine Life shows off people from Maine working hard and playing even harder with the beautiful scenery and wildlife Maine has to offer.
INTERMISSION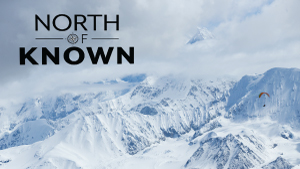 NORTH OF KNOWN
Directed by: Bryan Smith – USA – 52 minutes  Synopsis: "North Of Known", a Red Bull Media House Film documents professional paragliders Gavin McClurg and Dave Turner attempting a full, unsupported traverse of the Alaska Range by foot and paraglider, across North Americas highest mountains. The team faces endless extreme weather, starvation, grizzly bears, uncrossable rivers and countless glaciers in one of the worlds most remote and inhospitable mountain ranges. After 37 days Gavin McClurg completes the expedition solo and becomes the first person to traverse the Alaska Range by paraglider, fulfilling a dream he'd been chasing for six years.