Join MOFF presented by ReVision Energy at Rock Row's new bar garden for an evening of Outdoor Adventure films from across Maine and around the world.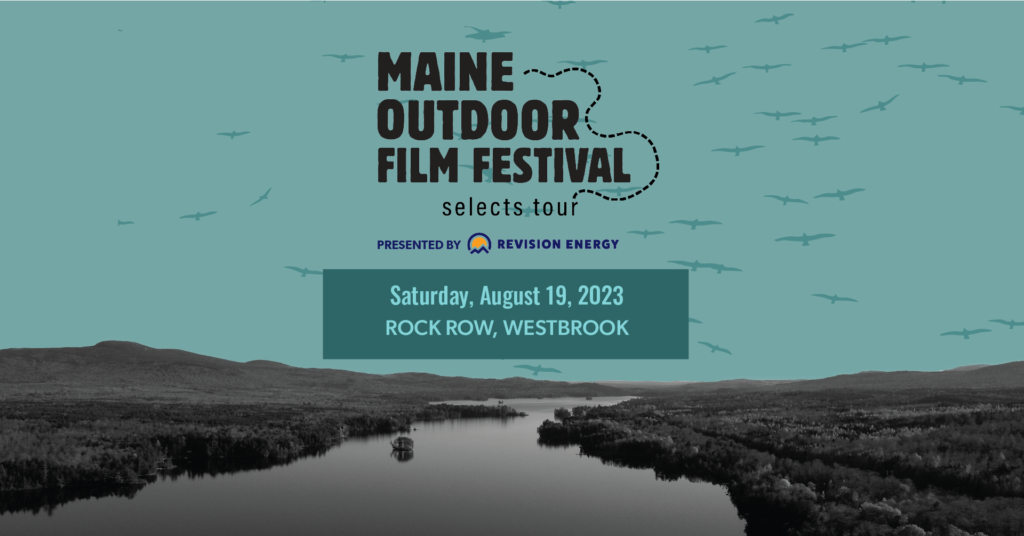 Date: Saturday, August 19, 2023
Timing: Doors: 7:00PM, Films at 8:00PM
Admission: This is an All Ages event (under 21 must be accompanied by adult), with pre-registration requested because of space limitations. Suggested donation of $5 to $10 goes directly to Teens To Trails.
Pre-Register: On Eventbrite
Location: Quarryside at Rock Row featuring Lone Pine. One Rock Row, Westbrook, ME
Program Notes: The film program will last about two hours, including a 10-minute intermission. 21+
Scheduled Program:
TO TOUCH THE EARTH: HIKE CLERB – 12 minutes – by Faith Briggs Rose – from United States – Short synopsis: Hike Clerb is a movement created by Evelynn Escobar to connect women and nonbinary folks to the outdoors, to "take up space" literally and physically. For Evelynn the journey to connect with nature and then help reconnect others is a reclamation of ancestral knowledge and a active healing process, personally and generationally. Here, she journeys to New Mexico to connect with likeminded changemakers at Nuestra Tierra, to learn about what they are fighting to create and protect, and to bridge their communities. With great friends, and her little daughter Isla, we move through nature in a place fraught with difficulty and marked by the resilience of Black and Brown communities.
THE RHYTHM OF ONE – 17.8 minutes – by Laurel Myers – from Colorado – Short synopsis: The world of mountain unicycling is not so different from those of skiing, climbing, or other adventure sports, yet you've probably never heard of it. 'The Rhythm of One' is a portrait of Canadian rider Ryan Kremsater and the evolution of his riding as he strives to push the envelope of this niche sport.
STORIES FROM THE WOOD – 3.83 minutes – by Kevin Moehlenkamp – from Maine – Short synopsis: Stories From The Wood profiles Chainsaw Artist, Josh Landry. Like a lot of folk art, chainsaw sculpting has been passed over, marginalized, and relegated to county fairs. Josh's talent elevates the art form and makes you look again with deserving reverence and wonder.
RENAISSANCE – 5 minutes – by Mike McKay – from Canada – Short synopsis: A ballet dancer finds her true expression through rediscovering her passion for movement in the mountains.
THE TRAPLINE – 11.4 minutes – by Andrea Wing – from British Columbia – Short synopsis: Syd has carved out a rich life in the Yukon and she's done it on her own terms. An avid outdoors person, she is recognized as one of the most successful hunters in the Yukon, gender be damned. Then she met Jurgen, an old trapper who would change the course of her life. This is the story of an unusual apprenticeship between an old timer and a young woman, and a disappearing way of life, changing hands.
BURDEN OF TIME – 4.44 minutes – by Xenia Alexandra – from California – Short synopsis: An ode to navigating the highs and lows of days gone by, Burden of Time is an exploration and visualization of our longing for connection and of the parallel lives that can be forged unbeknownst to us and above all, a celebration of human perseverance and tenacity.
THE OLDEST TRAIL – 17.18 minutes – by Cam Willis – from Vermont – Short synopsis: Starting on June 6th, 2022, in honor of National Trails Day, Outdoor Gear Exchange embarked on a fundraiser for the Green Mountain Club in the form of an end-to-end relay hike of the entire length of the Long Trail.
THE STORM CHASER – 7 minutes – by Jack Pirie – from United Kingdom – Short synopsis: The Storm Chaser is a labor-of-love short film project from writer/director Jack Pirie. The film follows storm-chasing legend Thomas Traversa as he embarks on a perilous journey in search of a mythical storm, the likes of which the world has never witnessed. A genre-blurring documentary about the profound encounters between humans and nature at its extremes, and the harmony that can be found within.
DARKEST BEFORE DAWN – 19.18 minutes – by Alex Eggermont – from Belgium – Short synopsis: Peek into the world of Belgian climber Siebe Vanhee's authentic, raw process of his first season climbing on Yosemite's hardest big wall. The infamous Dawn Wall proves to be a challenge in more ways than one. "Darkest before Dawn" combines genuine storytelling with a cinematic approach bringing together a story beyond just the climbing. The film encapsulates the beauty of the body language when hanging from its fingertips thousands of feet off the ground.