Join the Maine Outdoor Film Festival and the Falmouth Land Trust for an evening of outdoor adventure and conservation films shown under the stars in the field at Tidewater Farm.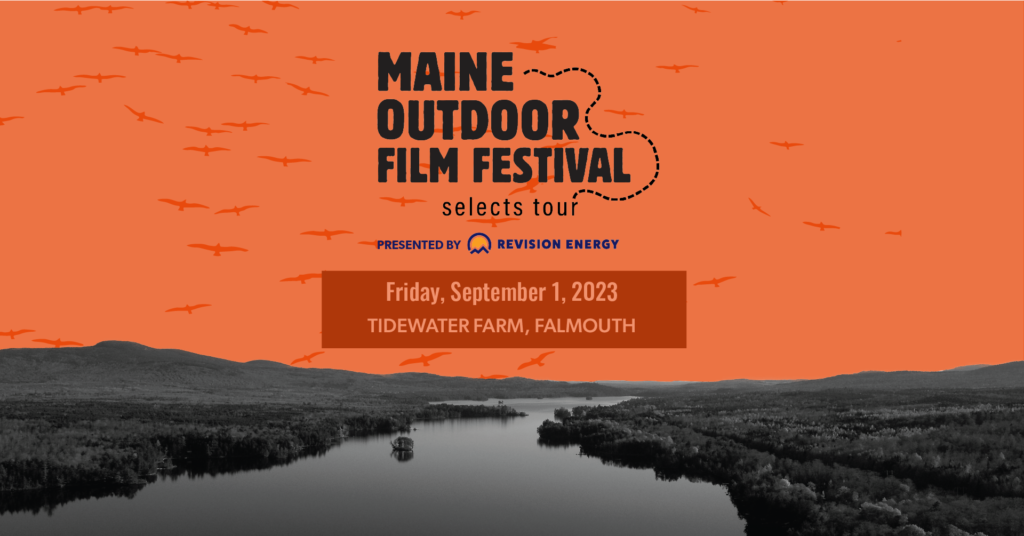 Date: Friday, September 1, 2023
Time: Doors: 7:00PM Films: 7:30PM
Location: Tidewater Farm (Presumpscot Point Rd in Falmouth)
Admission: Suggested donation $10 to $15, with proceeds going to Falmouth Land Trust.
Donation Link: Advance donations are appreciated. Do that here!
Presented in partnership with: Falmouth Land Trust
Program Notes: The film program will last about two hours, including a 10-minute intermission.
Please bring your own chair for comfort and safety
This event will adhere to any prevailing State Safety Guidelines (including social distancing, crowd limits and face mask recommendations).
Film program is subject to change.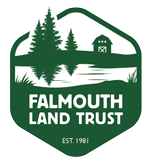 Scheduled Program:TO BE FRANK – 11.48 minutes – by Anna Wilder Burns – from Maine – Short synopsis: 'To Be Frank' explores authenticity and community in surfing via Frank Paine, a 73-year-old South Bay icon and humble local legend whose life orbits around a two-block stretch of beach. Surfing, which, for some, becomes lost in isolation, is made whole again with Frank — welcoming, inspiring, kind and committed, with an unwavering passion centered on and springing from Hermosa Beach's beloved shores.
FARM ON THE RIVER – 12.25 minutes – by Austin Mills – from Maine – Short synopsis: Sometimes the best medicine is an early morning, a good attitude, and a fresh shucked oyster. "Farm on the River" gives an intimate look at a family-owned oyster farm on the coast of Maine, and how backbreaking work for some is a freeing experience for others.
THE DISTANCE I'VE TRAVELLED – 14.77 minutes – by Daniel Hasel, Joni Hasel – from United States – Short synopsis: Even though cycling has always been part of Brett's life, his relationship to the bike has evolved as he rediscovered the city, found a community, and coped with his mental health. In four episodes the story follows Brett who lives in a world shaped by lessons that riding has taught him – about life, about death, and about the beauty and the burden of everything in between.
BRAVO MARCEL – THE CENTURY CLIMBER – 21.58 minutes – by Hannes Tell – from Switzerland – Short synopsis: Still climbing on the sharp end of the rope at 99 years of age, Marcel Remy is a truly unique climbing super hero of our time that shows us in an incredible way that you are really never too old to achieve your goals in climbing and lead an inspiring life. Narrated by Claude Remy, our uncanny super hero Marcel takes us along in a slow but steady pace film as we can witness what effect this stone old climber has on his environment and peers.
THE FEEDING FRENZY – 6.57 minutes – by Roger Scott McCord – from Maine – Short synopsis: A brood of five Phoebe hatchlings is obsessed from nest to first flight.
FINDING HETCH HETCHY – 9 minutes – by James Q Martin – from California – Short synopsis: Timmy O'Neill had spent three decades scaling the monoliths in Yosemite Valley but, like so many climbers in the park, had never visited the nearby Hetch Hetchy Valley, which stays well out of the limelight due to San Francisco's controversial dam and reservoir that covers the valley floor. 'Finding Hetch Hetchy' shows the excellent opportunities for climbers while explaining the opportunity to relocate its namesake reservoir and restore the valley below to its natural beauty.
THE BOUNDARY WATERS TRAVERSE – 12.02 minutes – by Erik Nelson – from Minnesota – Short synopsis: The Running for the Boundary Waters project is designed to highlight the issue of potential sulfide-ore copper mining proposals in the watershed of, and directly adjacent to the Boundary Waters Canoe Area Wilderness to the running community. Trail runners and environmental advocate Alex Falconer ran the Border Route and Kekekabic trail, creating the boundary waters traverse, a 110 mile run, in 38 hrs 15 mins and 3 seconds. This shows his journey.
THE BEAR COAST – 17.17 minutes – by Andrew Ackerman – from CO – Short synopsis: Despite the number of protected wildlife areas along Alaska's Bear Coast, the fractured, disconnected landscape of the national and state park systems exposes brown bears to many threats. This short, informative documentary centers multifocal storytelling with a local, diverse cast of characters to provide a nuanced account of contentious environmental issues that have real, lived impacts for Alaska Peninsula residents and bear populations alike.