Join the Maine Outdoor Film Festival for an evening of Outdoor Films, Shown Outdoors at Hacker's Hill, hosted by Loon Echo Land Trust.
FRIDAY'S MOFF SELECTS TOUR AT HACKER'S HILL IS POSTPONED TO WED 8/23 BECAUSE OF RAIN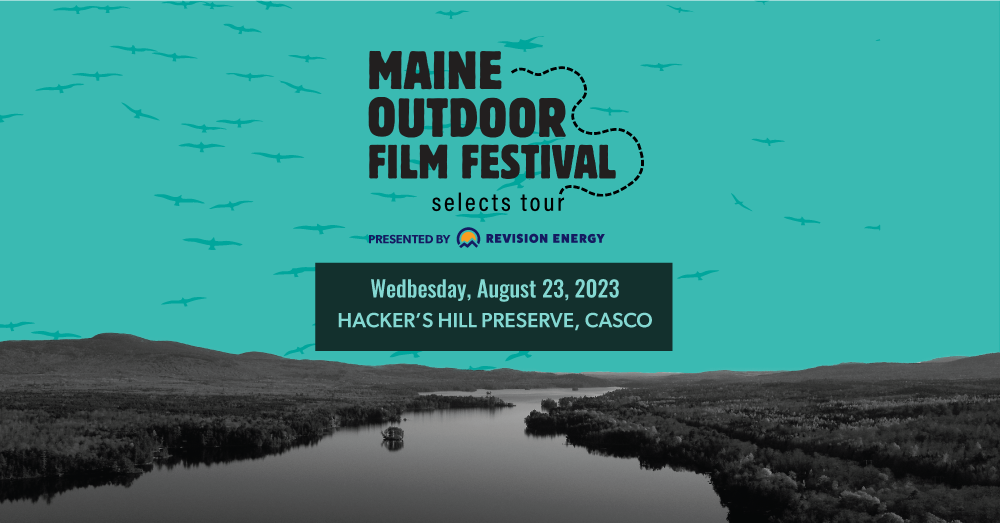 Date: Friday, August 18, 2023
Date: Wednesday, August 23 (rescheduled because of weather)
Show Time: 8pm
Doors: 7:45 pm
Suggested Donation: $10
Pre-registration Link: Tickets will be available at the door, but pre-registration is recommended.
Location: Hacker's Hill Preserve –174-238 Quaker Ridge Rd, Casco, ME 04015
Presented in partnership with: Loon Echo Land Trust
Program Notes: The film program will last about two hours, including a 10-minute intermission.
Please bring your own camp chair and/or blanket. This event will adhere to any applicable prevailing state safety guidelines.
Scheduled Program:
LOVE – 14.68 minutes – by Tara Reynvaan Kerzhner – from United States – Short synopsis: After a miscarriage and a historic ascent of the famous sport climb Dreamcatcher, Paige Claassen follows her own path as a professional athlete training through pregnancy, finding new meaning in strength and identity through the early days of motherhood.
WHITE RIVER LAND COLLABORATIVE – SEED FOR THE FUTURE – 14.85 minutes – by Lisa Zimble – from Vermont – Short synopsis: A story about the White River Land Collaborative — a women-led vision for community-based collaborative farming in Tunbridge, Vermont.
DRIVING SWEEP – 9.42 minutes – by Greg Cairns – from MT – Short synopsis: Few river guides ever get the chance to drive Idaho's Iconic sweep boat. Driving Sweep follows Katie Veteto as she learns how to "drive sweep" down the Middle Fork of the Salmon River. She's learned the rapids and the river, but can she stand on a 4,000lbs raft and drive it safely down steep rocky rapids?
FASCINATING MAINE FUNGI – 13.4 minutes – by – from Maine – Short synopsis: North Spore founder Eliah Thanhauser teams up with TikTok influencer, mushroom ASMR enthusiast, and PhD Biochemist and Molecular Biologist Dr. Gordon Walker (aka Fascinated by Fungi) for a visually stunning mushroom foray off the coast of Maine.
FROZEN HARVEST – 2.6 minutes – by Mark Fleming – from Maine – Short synopsis: For centuries, the people of Maine have upheld the tradition of ice harvesting. Our team had the opportunity to join volunteers at the Thompson Ice House and witness firsthand this once-thriving industry's remarkable but vulnerable legacy. 'Ä®'Ä®As one of the few remaining ice harvests in the world, the ice house in South Bristol offers a poignant reminder of the profound impact of global warming.
INVASIVE. – 6.04 minutes – by Paul Friedman, Spencer Mendell – from Maine – Short synopsis: This is a film about the battle to retain biodiversity in our plant species while we weather the changing climate. While many plants we are familiar with will die off in the coming decades, what will replace them? If we aren't careful, invasive plant species will use this transition period to take over the forests. Our hero, Amanda Devine, is fighting hard to help combat this invasion and to help educate others so we can all work together to protect our ecosystem.
WILD AND STILL – 13.35 minutes – by hugo clouzeau – from France – Short synopsis: Wild And Still, a short film with kayaking.
LEO & CHESTER – 8.32 minutes – by Andrea Wing – from British Columbia – Short synopsis: Leo, a sought-after rock star with a promising career, turns his back on the industry to pursue a life on the land with a herd of buffalo.
URBAN OASIS – 4.1 minutes – by Ryan Scura – from California – Short synopsis: A journey through the contrasting urban and natural spaces within San Francisco's 49 square miles.
MAINE MAPLE – 3.83 minutes – by Jeshua Soucy – from ME – Short synopsis: The story of Maine maple syrup from sap out of a tree to pouring it over your pancakes.
ELEVATED – 15 minutes – by Palmer Morse – from California – Short synopsis: Effective communication is a challenge every climber faces. It's a sport that requires intense focus, dedication, and overcoming fear. For Deaf climber Sonya Wilson, communication and community is of vital importance. Elevated is a non-verbal film sharing Sonya's experience as a Deaf woman and outdoor advocate working to bridge the gap between the Deaf community and the outdoor industry, one crag at a time.