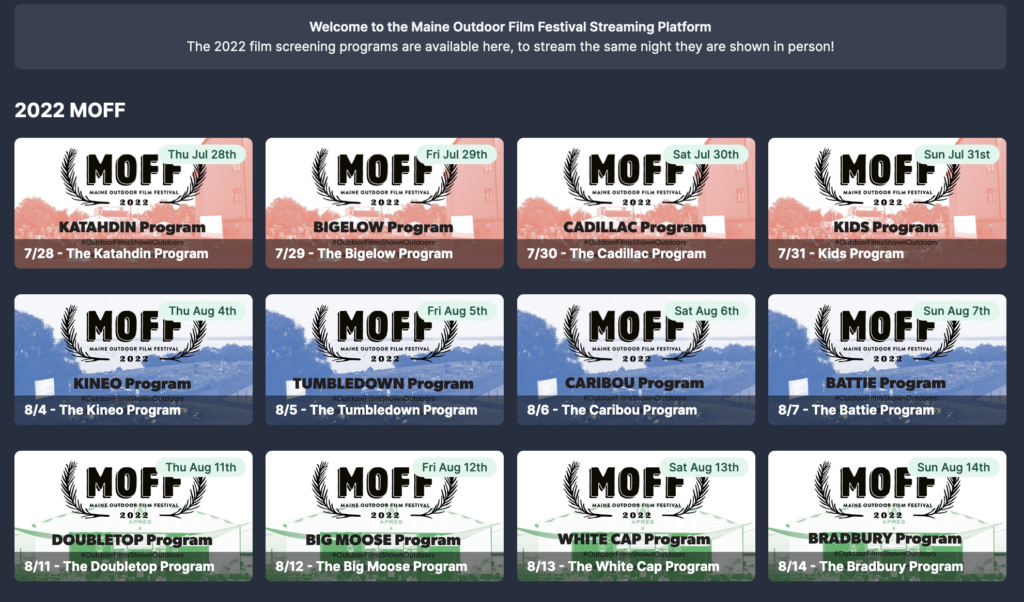 WATCH THE 2022 MOFF Online
The full MOFF 2022 film program* will  be available to stream on our online streaming platform, on the same nights they are shown in-person!
To watch online, there are three options:
1 – We're offering a $50 Streaming Pass which gives audience members streaming access to all the 2022 MOFF flagship screenings (schedule below)
2 – For single screenings, we're offering pay-what-you-can (min $5) viewings. Here's the schedule:
Thursday, 7/28 – The Katahdin Program
Friday, 7/29 – The Bigelow Program
Saturday, 7/30 – The Cadillac Program
Thursday, 8/4 – The Kineo Program
Friday, 8/5 – The Tumbledown Program
Saturday, 8/6 – The Caribou Program
Sunday, 8/7 – The Battie Program
Thursday, 8/11 – The Doubletop Program
Friday, 8/12 – The Big Moose Program
Saturday, 8/13 – The White Cap Program
Sunday, 8/14 – The Bradbury Program
3 – Friends Of MOFF get a Streaming Pass as part of the package (along with a hoodie, TWO in-person Gold Passes and more)
More info on streaming MOFF 2022:
-MOFF uses the Eventive Virtual Platform for security for our audience members, to protect our filmmakers' work and because of their dedicated customer service team
-Audience members can stream through the eventive app on Roku, Apple TV, Fire TV, on your PC and many other options.
-To watch, just create/login to your Eventive account and
-Film programs will be available for 24 hours beginning at 8pm on the evening they are scheduled to screen in person.
–Pro Tip #1: If you pre-order the screening, you'll receive an automatic email 10 minutes before the screening becomes available.
–Pro Tip #2: If you are unable to watch the film the night of the screening, just unlock it, click "Watch Now" and then you will have 7 days to finish watching!
-*the two Teton Gravity Research titles are not available for streaming because of distribution agreements.